A healthy body is the beautiful one, let's talk about the top 07 health concerns of teenage girls, so as to get it in a notice and plan to avoid it, for more healthy and happy teen life.
The top 10 health concerns of teenage girls are, obesity, eating disorders, internet risks, tattoos and piercing, injuries, stress, dating violence, picking the skin, fibromyalgia and premenstrual syndrome. Let's talk in details,
Obesity:
In the US more than 23.90 Million children are overweight and 12.70 Million is obese. This is linked to any chronic health concerns and is associated with multiple health and fitness challenges. In girls, being overweight is linked with abnormal periods, acne, male type baldness and even infertility. The challenge is irreversible and a health care provider can guide you to cope with the situation.
Eating Disorders: The most common eating concerns of teenage girls are Bulimia Nervosa and Anorexia Nervosa. Let's now differentiate the two. The Bulimia Nervosa is the eating disorder, in which a teenage girl tries to compensate the eating calories with extreme exercise, forced vomiting to prevent weight gain. In the latter case, teenage girls are very much

concerned

about their weight gain and have a distorted view of their body weight and shape. Both these conditions are not normal and need to be adjusted.
Internet and smartphone

risks: Cyberspace may

sometime

be a dangerous space for teenage girls and its risks are real.

There

may be criminals behind the screen, which misrepresent themselves. Teenagers may not null that the photos, texts and videos, they are sharing are permanent and that,

the culprits

are not always

strangers

. The shared content may be used in different forms, for bullying the girls. This is also one among the major causes of depression in girls.
Tattoos and piercing: For the self expression, the trend of tattoos and

piercing

is now at dangerous limits. Only a well reputed and qualified professional, can null the risks of infections, HIV/ AIDS and other infections of skin.
Injuries: Unintentional

injuries

are

the major cause of deaths of US girls aged between 10 to 19. Most of these events are due to motor vehicle accidents, drowning,

poisoning

,

burns, sports, recreational activities, choking, animal bites, suffocation and misuse of firearms, With

the exception

of motor vehicle accidents, the other factors are comparatively more

controllable

by taking appropriate precautionary measures.
Depression and Anxiety: Preteen and teenage girls can suffer from Stress and anxiety. One survey reveals that one third of high school going girls are of the view that they feel permanently or temporarily, sad or hopeless. Untreated

anxiety

conditions can lead to very serious health consequences,

including

the extreme,

suicide

attempt

.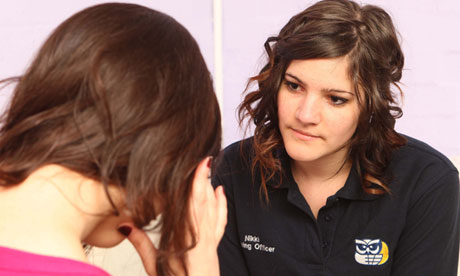 Dating Violence: Dating violence means, when a boyfriend intentional scar or hurts his girl friend, This includes mental, physical and sexual violence. More serious consequences of unlawful relations results in stress, depression and teenage pregnancies. As teenage girls are inexperienced, they need to be guided properly to avoid and leave such relationships.
Picking at your skin: continuous stressing your pimples and acne scars not only worsens the condition, but also may lead to infections, Girls should avoid picking at their faces to avoid worsening inflammation and injuries.
Fibromyalgia: the continuous pains in the body, s muscles, joints and soft tissues are the common indications of fibromyalgia. Although a professional health care consultant should be contacted to accurately diagnose.
Premenstrual syndrome: This is the group of symptoms that hits your body, before the starts of menstrual periods. The symptoms include bloating, nausea, headache, joint pain, mood swings, stress and depression,